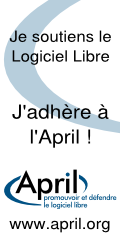 What is it?
Password Policies Manager is a graphical tool to administrate the OpenLDAP Password Policies Overlay. Most importantly, it allows you to:
define password policies (including password lockout, enforcing password quality, password expiration, ...)
unlock accounts
create users
Password Policies Manager is a PHP4 or greater application and only need OpenLDAP support in PHP. No complicated configuration is needed, just unpack it in a web accessible directory and configure stuff like public URL or LDAP server. The authentication will be LDAP based.
Note: this program is NOT an administration interface to configure the Password Policies overlay in OpenLDAP. For this, refer to the OpenLDAP manual.
Licensing
The Password Policies Manager is released under the terms of the GNU Affero General Public License. Yes, it is FREE as in free speech. But I would not mind a free beer if you find it useful !
Also, if you want to contribute to a non-profit doing an amazing work for Free Software in the francophone area, do not hesitate to become a member of April, the most important French-speaking Free Software organization, by clicking on the above images.
Screenshots Download

The password policies manager can be downloaded from the Gna! download area (thanks guys):